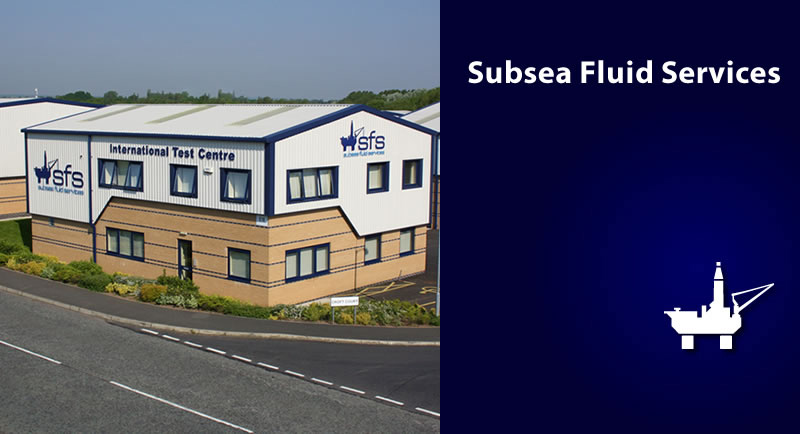 Providing Independent, fluid related testing, qualification and consultancy services to the Global oil and gas industry.
Join our mailing List >>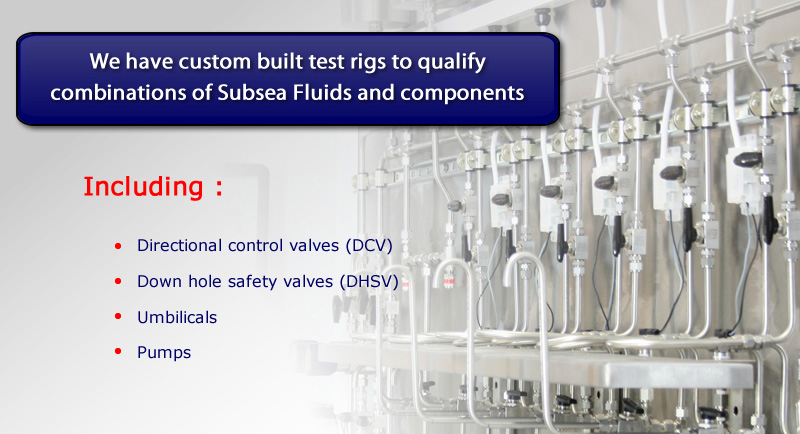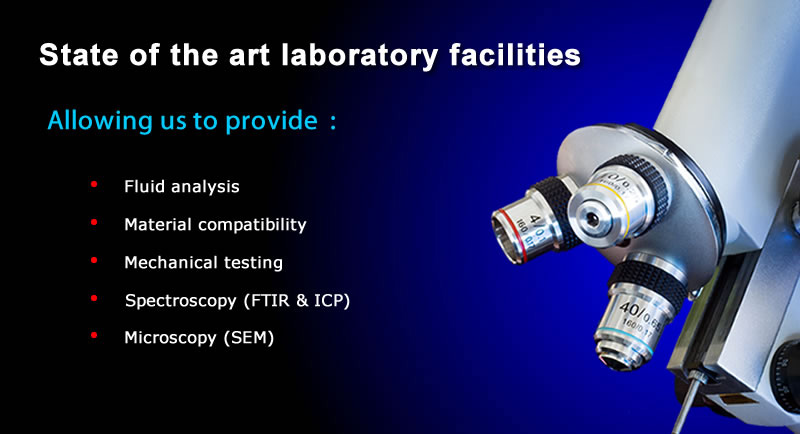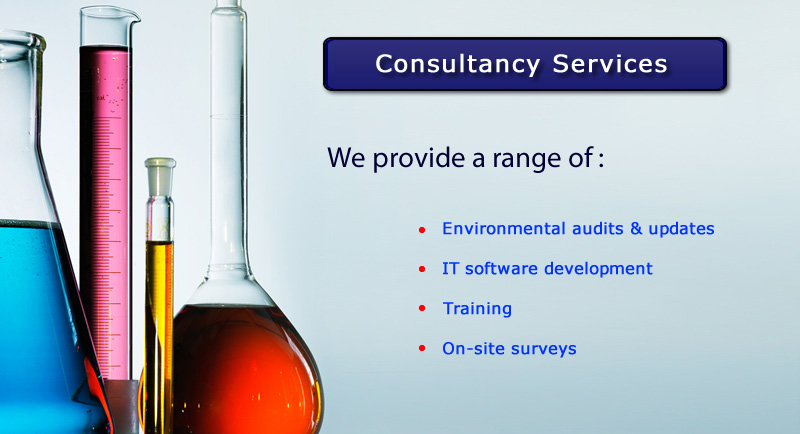 Umbilical Compatibility Testing
Our umbilical compatibility testing facility is designed for the accreditation of thermoplastic umbilical sections to ISO 13628-5 standards. Typical testing includes cyclic pressure testing, leakage, permeability and burst testing and fluid immersion testing.
Test rigs for assessment of thermoplastic umbilicals to ISO 13628-5.
Cyclic pressure tests regimes can be run at a variety of temperatures.
Mechanical properties are calculated together with analysis of test materials using SEM and FTIR.
Permeability tests can also be run on the same test rig.
DCV Testing
We have a number of test rigs capable of testing up to 6 DCVs simultaneously at a range of temperatures and pressures. Our sophisticated software package allows us to run test cycle durations to suit each customers exact needs.
Several test rigs available, capable of testing 6 DCV's at the same time.
• Rig temperatures can be controlled across a wide range of temperatures.
Test pressures from low pressure (5,000psi) to high pressure (15,000psi).
Scope of work and testing tailored to suit client's needs exactly.
DHSV Testing
Our Down Hole Safety Valve test stand is capable of testing DHSVs at pressures of up to 20,000psi and temperatures of up to 250 °C. The test rig is specially designed and built to operate to any industry standard or equipment manufacturers test methods.
Bespoke test rig capable of maintaining operating conditions of up to 250 °C
Sophisticated system design allows pressures of 20,000 psi to be safely maintained.
Testing cycle regime designed to exceed field conditions.
Function test data recorded at agreed intervals.
Pump Testing
Our pump test rig is capable of testing pumps commonly used in the subsea hydraulics industry to standard industry and equipment manufacturer requirements (typically 1000 hours).
Pump taken a part and dimensions of key components measured.
Testing carried out in line with manufacturer's requirements.
Test fluid monitored before and after the testing program.
The pump is stripped down and key components re- measured and compared with standard data.
Material Compatibility Testing
SFS can test all materials, metals and elastomers commonly used in subsea hydraulic systems to
ISO 13628-6 and other relevant industry and equipment manufacturers standards.
Laboratory testing of all materials, metals and elastomers used in subsea systems.
Testing programs in line with ISO 13628-6 at a wide range of temperatures and pressures.
Before and after comparisons of relevant mechanical test data.
Reporting to meet relevant industry and equipment manufacturers standards.
Fluid Analysis
Our extensive laboratory facilities and analytical instrumentation is at the disposal of all our clients. Testing can range from simple determination of concentration, pH, microbial activity and contamination to a bespoke troubleshooting service.
Extensive laboratory facilities with test equipment and analytical capability.
Routine determine concentration, pH, microbial activity and contamination.
Site visits to carry out testing and conduct surveys.
In depth troubleshooting investigations, including FTIR spectroscopy, ICP spectroscopy, SEM (scanning electron microscopy).
Consultancy Services
Training
IT Services
Consultancy Services
By engaging SFS as your project consultants you can access knowledge and expertise that will help bring projects to completion on time whilst keeping overheads to a minimum.
Experienced engineers and scientists available for on-site and off-site services.
Experts to advise on the likely impact of environmental legislation.
Bespoke software packages to manage material compatibility and other performance data effectively .
Fluid related projects undertaken including material mapping.
Training
We run a number training courses throughout the year that are ideal for new personnel dealing with fluids for the first time or as a refresher course for those with more experience. In-house courses can also be arranged that suit a client's needs exactly.
Routine 'Fluid Awareness' training courses.
Understand the importance of concentration control, system cleaning and basic troubleshooting.
In-depth training is tailored to suit the needs of the client.
Surveys of existing knowledge & skills provide a platform for future training.
IT Services
The team at SFS have been at the forefront of using the latest IT capabilities for many years allowing us to create bespoke packages that suit our client's needs exactly. These range from simple programs that record and store electronic data from test rigs to complex databases that allow easy retrieval of specific test results from hundreds of qualification test reports. Our specialists are able to create tailored solutions to your specific IT problems.
Profile
Our Vision
Independence
Confidentiality
Quality
Vacancies
From our International Test Centre near Manchester UK,
Subsea Fluid Services
(SFS) provide a comprehensive range of testing services to the Offshore Oil and Gas Industry. We have a dedicated team of engineers and scientists, with many years experience, available to work on client projects.
The engineering team
offer design and build for test rigs that recreate field conditions. The testing department work with clients to develop qualification test programs on combinations of FLUIDS, EQUIPMENT and MATERIALS under the exact test conditions you require.
Our scientists
are all formulation chemists who understand how products are designed and what their key properties are. They have access to 'state of the art' laboratory facilities fully equipped with extensive analytical instrumentation. A full range of chemical and mechanical testing is available to assess fluid compatibility using the relevant ISO or other industry standard specifications.
Our combined skills and knowledge are also available for our clients to access via our consultancy services and training which can be tailored to suit your exact needs.
Our Vision
To become the leading Global expert for everything related to subsea fluids and their suitability for use with subsea equipment and materials.
We add value to our client's qualification processes with sub-contract services and independent test reports.
In short :
"If a fluid touches it, we can test it."
Independence
Due to the sensitive nature of the qualification work undertaken at Subsea Fluid Services the Board have appointed an independent business consultant, Trevor Williams, as General Manager. Trevor has over 25 years' experience within the lubricants industry which started at Castrol as a Development Chemist followed by a long career as Technical Director and later MD at Houghton. More recently he has worked as a business consultant including a project at Niche Products. His integrity, experience and knowledge of the Offshore industry gives clients confidence in the work carried out at the International Test Centre in Manchester.
Confidentiality
To achieve meaningful results from testing programs, clients may have to share sensitive information with us. The risks associated with test results and reports are increased when work involves third party fluids, materials or components.
Confidentiality agreements
which all SFS personnel have to sign, are routinely set up before work starts which can be done back to back if third parties are involved,. Reports and documentation relating to projects are stored under very strict controls using the guidelines of ISO 27001.
Quality, Environmental and Health & Safety
An effective quality management system, minimisation of our environmental impact and strict Health & Safety controls are the cornerstones of SFS operations. This structure allowed us to be accredited to ISO 9001:2008 within the first 6 months of trading.
Working with high pressures and temperatures presents specific H&S dangers. However, being aware of these at the planning stage and by using guidelines laid out by the HSE, OHSAS 18001 and other relevant industry bodies , we are able to establish a very safe working environment.
Vice President: Americas Expansion
Salary: Negotiable
SFS was set up with the vision of becoming the leading Global expert for everything related to subsea fluids and their suitability for use with subsea equipment and materials. Our team of engineers and scientists have built an extensive array of subsea test equipment and can assist customers with DCV, DHSV, Umbilical Hose and pump testing to industry standards. In addition we have the ability to provide fluid analysis, chemical testing and consultancy services making us a unique service company within the offshore industry.
With HQ in Manchester, UK, we are now looking for our next stage of global expansion into the USA and are looking to appoint an exceptional Vice President to take on responsibility and drive this forward in the Americas from offices in Houston, Texas.
The ideal candidate would have a proven track record working in the subsea control fluid market with the following skills and experience desireable:-
Technical knowledge of subsea equipment.
Knowledge of the subsea controls fluid market.
Technical knowledge of subsea control fluids.
Experience in sales and technical support.
Strategic marketing skills.
Management experience.
Leadership potential.
MBA and engineering qualifications.
Successful candidate would be based in Houston Texas and willing to travel internationally as required.
To apply for this position, please send your CV to
jobs@subseafs.com
along with a covering letter explaining why you think you would be suited to the position.
Contact Details
Subsea Fluid Services Limited
E18, Croft Court
Leigh, Lancashire
WN7 3PT, UK
Tel : +44 (0)1942 608 831
Email :
info@SubseaFS.com
Join Our Mailing List >>
Subsea Fluid Services Limited
, E18, Croft Court, Leigh, Lancashire, WN7 3PT, UK, |
info@SubseaFS.com
| +44 (0)1942 608 831